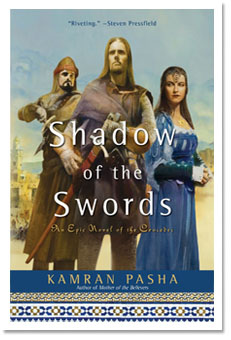 Shadow of the Swords:
An Epic Novel of the Crusades
An epic saga of love and war, Shadow of the Swords tells the story of the Crusades—from the Muslim perspective.
Saladin, a Muslim sultan, finds himself pitted against King Richard the Lionheart as Islam and Christianity clash against each other, launching a conflict that still echoes today.
In the midst of a brutal and unforgiving war, Saladin finds forbidden love in the arms of Miriam, a beautiful Jewish girl with a tragic past. But when King Richard captures Miriam, the two most powerful men on Earth must face each other in a personal battle that will determine the future of the woman they both love—and of all civilization.
Richly imagined, deftly plotted, and highly entertaining, Shadow of the Swords is a remarkable story that will stay with readers long after the final page has been turned.
"The bloodshed of the Third Crusade is vividly portrayed in Pasha's second novel (Mother of All Believers), an excellent swords and sandals saga that takes in the action from an early Islamic perspective. Richard the Lionheart leads the armies of the European Crusaders, while Saladin commands the Muslim forces in Palestine. Both men are cunning and ruthless, and both are victims of the wiles of a beautiful young Jewish woman's plotting--one man as her lover, the other as an enemy. Miriam is the niece of Maimonides, Saladin's trusted physician, and she has the power and will to thwart one man's plans and save the kingdom of the other. This is a suspenseful, action-packed historical filled with intrigue, treachery, revenge, massive atrocity, and gory scenes of battlefield butchery. Best, however, is Pasha's clear depictions of Saladin's and Richard's astute political and military leadership styles as they rally their forces to fight yet another religious war neither would win."
-- Publishers Weekly
Read reviews | Buy the book